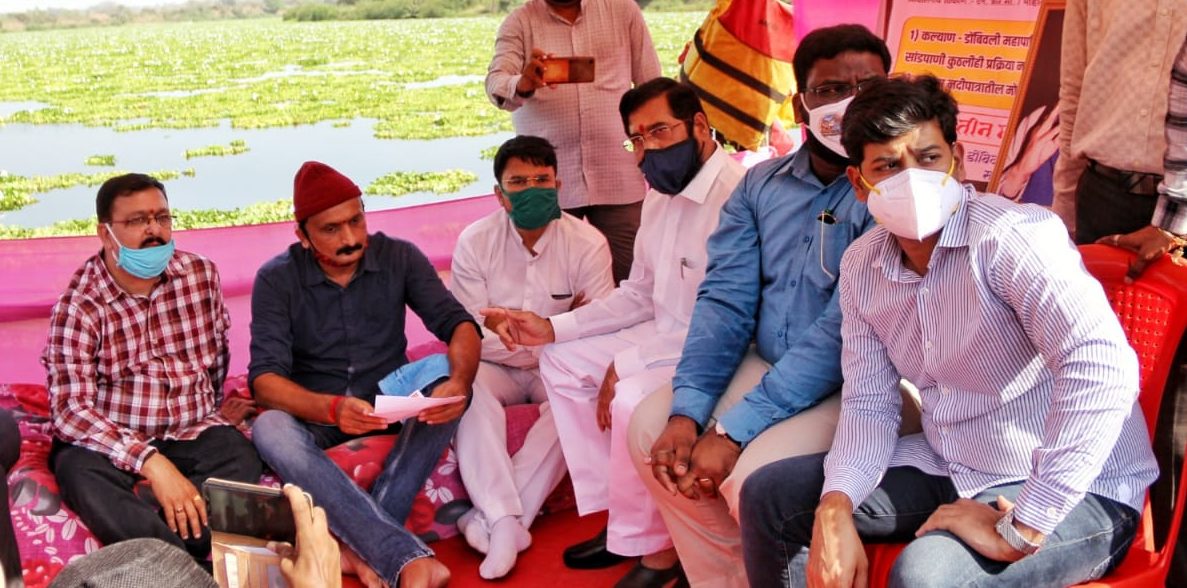 kalyan 27th February:
The Guardian Minister of Thane District Eknath Shinde testified that the problem of water hyacinth in the Ulhas River, which supplies water to most of the urban areas of Thane district, is being solved permanently with the help of biotechnology. Nitin Nikam of 'Mee Kalyankar Samajik Sanstha' and his colleagues were protesting in Ulhas river basin against the problem of pollution in Ulhas river. The agitation was stopped after Eknath Shinde testified that he met him today.
With the help of technology developed by Bhadsavale, Dr. spread over 40 acres in Aurangabad. The water hyacinth in Salim Ali Lake was destroyed two years ago. The problem has not recurred in the last two years. The same technology will be used to solve the problem of water hyacinth in Ulhas river. Also, as a matter of urgency, Guardian Minister Eknath Shinde also ordered to start manual removal of water hyacinth from Monday.
STPs are being set up through Kalyan-Dombivali and Ulhasnagar Municipal Corporation to solve the problem of sewage mixing in Ulhas river. The work of STP at Khemani has been completed and the work of 5 STPs in Kalyan-Dombivali border will be completed by the end of May. Eknath Shinde directed to prepare a proposal for setting up STP on Mharal Nala too. Eknath Shinde also instructed to make sure that sewage does not mix directly with the river by building a dam at the mouth of this nallah as a matter of urgency.
At this time, MP Dr. Shrikant Shinde, Collector Rajesh Narvekar, Kalyan-Dombivali Municipal Commissioner Dr. Vijay Suryavanshi, Ulhasnagar Municipal Commissioner A. N. Raja, NCP district president Jagannath (Appa) Shinde, Saguna Bagh progressive farmer microbiologist Shekhar Bhadsavale, MLA Vishwanath Bhoir, Shantaram More were present.