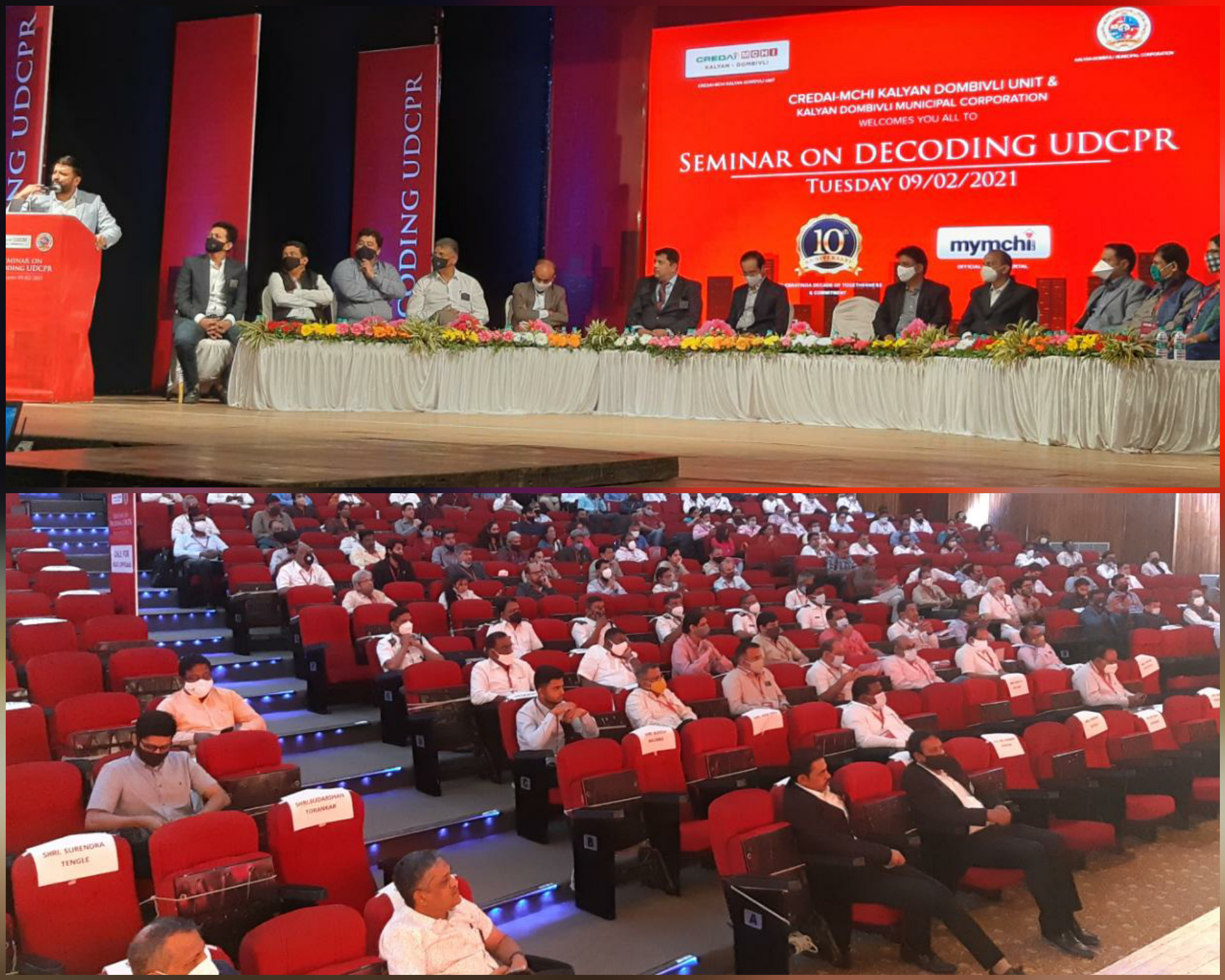 Kalyan on February 9:
The recently enacted Comprehensive Development Control and Promotion Regulations (UDCPR – Unified Development Control and Regulations) seeks to promote the social, economic and environmental development of cities. Sudhakar Nagnure, Director, Town Planning, said that the new UDCPR rules have a lot of scope for the overall development of cities like Kalyan Dombivali. He was speaking at the 'Decoding UDCPR' seminar organized by MCHI Kalyan Dombivali and Kalyan Dombivali Municipal Corporation. The day-long seminar provided in-depth information on the provisions of the new Construction and Development Regulations.
Previously, building permission was a very complicated process. However, in this new UDCPR (Unified Development Control and Regulations) of the state government, all the rules have been framed in a very simple and straightforward manner. This will be the only UDCPR applicable for the whole of Maharashtra except Mumbai and MIDC and making it a real challenge, Nagnure said.
On the other hand, we are working to remove the stain of dirty cities on the cities of Kalyan Dombivali and the cooperation of all is needed to transform them. Vijay Suryavanshi did it this time. Many important projects have been started in the coming years to transform the city of Kalyan Dombivali. It includes completion of partial projects, construction of new roads to ease traffic congestion, beautification of existing 35 major roads, beautification of bays, development of good gardens, construction of playgrounds, clearing of sidewalks. He said that more emphasis is being laid on solving the waste problem in Kalyan Dombivali and in the next one to two months, dumping of waste at Wadeghar dumping ground will be stopped completely. Suryavanshi expressed this at this time. We are working hard to improve the living standards of the people of Dombivali, including the city of Kalyan Dombivali, for which the participation of builders is equally important. Vijay Suryavanshi introduced the present developers.
Organized by MCHI Kalyan Dombivali and Kalya Dombivali Municipal Corporation, the seminar was attended by a large number of developers, builders, architects and town planning officers from Kalyan Dombivali, Ulhasnagar, Ambernath, Badlapur and Bhiwandi. Through this seminar, various experts provided in-depth guidance on important elements like provisions, changes, rules in the new UDCPR (Unified Development Control and Regulations).
The event was attended by Kalyan Dombivali Municipal Corporation City Engineer Sapna Koli-Devanpalli, Kalyan Dombivali MCHI President Shrikant Shitole, former President Ravi Patil, Deepak Mehta, Milind Chavan, Amit Sonawane and various office bearers.